Description
Brian Berkenpas Testimonial – Long Time Customer "Send Your Friend" Rewards Program
More money is spent every year on "analog" Scratch-Off Game Cards than is bet in Las Vegas & Atlantic City Casinos combined. New for 2018, Rewards Card Pro has tailored & updated the time-proven "Send Your Friend"℠ Instant Scratch-Off Game,  long popular with Auto Retailers,  for the Dental Vertical. Using our copyrighted Dentist Rewards Club℠ program, rolling-out now nationwide, Private Practices can generate $200,000 and more in new patient billings
Friend & Family Referrals are a Proven way to Leverage & Grow Your Practice Business. When you make it Fun, Exciting & Rewarding for Your Current Customers to Seek Out and Send You a New Customer, over 8% Will and Do Send You Referrals. Our "Send Your Friend" Instant Game Cards have been a consistent hit in Auto Retailing for decades, and now we have a new program Tailored for Dentists.
Bottom Line: Our New "Send Your Friends" Dentist Rewards Club Campaign will help you acquire up to 200 New Patients**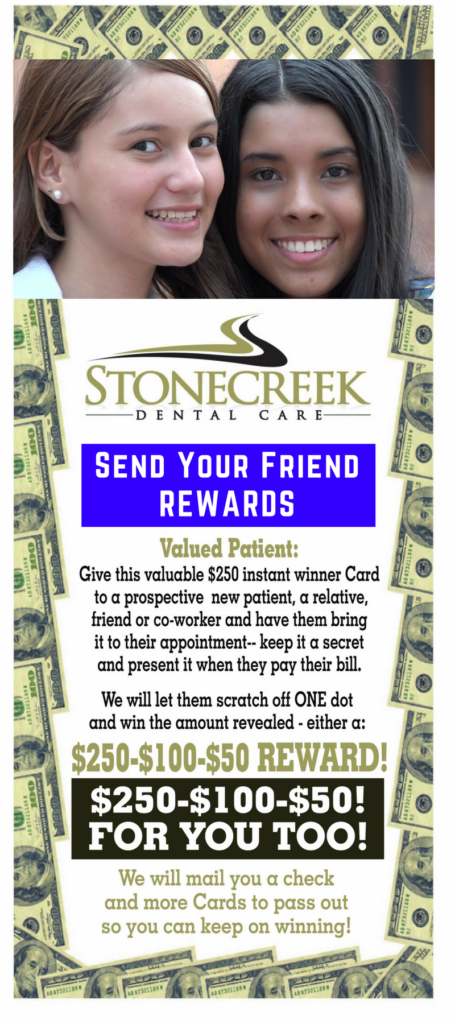 It's Simple 1-2-3:
1) Order Your Reward Cards
Custom Color-Printed for your Practice, Tailored with your Logo, Contact Info & 3 Prize Amounts that you select (we suggest $250-100-50 -or- $100-50-25). Order 2,000 Custom Color Printed Rewards Cards Online and get Free Standard Shipping in US Mainland plus Free Setup & Free Art Proof.
2) Leverage All Club Members
Provide All Current Patients with Your Scratch-Off Instant Win Rewards Cards. Distribute at the Office Front Desk and include with monthly mailed statements. Encourage all Club Members to give one card to each of their Friends & Family who need Dental Services.
3) Everyone Wins
All Your New Patients and Current Patient "bird-dogs" are guaranteed to win. Have the New Patients Scratch-off at the Front Desk when they settle their bill. Give them Instant Credit in the Prize Amount on their bill.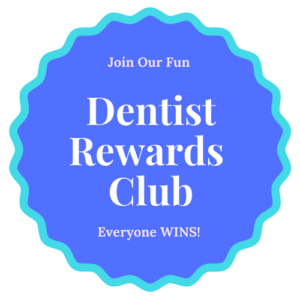 Friend & Family Referrals are a Proven way to Leverage & Grow Your Practice. Your Average Reward is only $56 each with the 250-100-50 Prize Lineup. You Pay After The New Patients come in…Give Them Credit on their Bill or Cash.
Our "Send Your Friend" Dentist Rewards Club will deliver the results at a solid ROI. We are confident and back up our claims with Our Exclusive 3 Point Guarantee
100% Satisfaction in our Quality & Program
Unlimited Consultation & Rewards Program Training
Earn minimum 4x return on your investment
We will Custom Print your 1000 or 2000 Instant Game Cards, tailored with your Prize Amounts, Logo, Location, Tag Lines & more. We will Train your Team on the Program and Guarantee your Satisfaction. Order Online and we include Free Standard Shipping in Mainland US along with Free Setup & Free Art Proof.
Q: How Does The Dentist Rewards Club Program work?
A:  This Service Marked & Copyrighted "Send Your Friend" Game rewards both your New Patient and your Current Patient.
Simply hand out your Reward Cards at your Front Desk to every Current Patient at bill paying time and say "Thank you for your business and here is how to collect $100 everytime you send us a new customer"
The more people you give the card to with a smile–the bigger your referral universe. The bigger your universe the more referral Patients coming to your Practice.
When the New Patient Pays their bill on the first visit, play the scratch-off card and credit them their winnings. And, also provide Credit to your Current Patient on their Account for Future Visits.
It really is that simple.
Q: What Are the Odds?
A: You determine the Prize Amounts for W-I-N
Each copyrighted "Send Your Friend" Rewards Card has 400 scratch off dots consisting of
1 letter W
10 letters I
389 letters N
the real time odds are:
Scratch Off the W prize: 400 to 1 shot
Scratch Off the I prize: 10 out of 400 shot
Scratch Off the N prize: 389 out of 400 shot
Using an Incremental Probability Study we can project your average reward for both the current patient and the new patient friend they send. The WIN letters move to 400 new hidden image (under the dots) locations on every Game Card —this is the really hard part! No Two Game Cards have the same Reward locations!!
Q: Do you offer International Language versions?
A: Yes — Spanish, Chinese, Tagalog, Vietnamese and more languages are available.
Q: Who is the Manufacturer ?
A: Pro Marketing Systems Inc. is the world's largest manufacturer and marketer of Unseeded* Instant Winner Game Cards.
Since 1993 we have developed and supplied our copyrighted Sales Contest / New Client Rewards Game Cards to over 5,000 satisfied business clients in US and abroad.
Our Popular Rewards Programs include
1. Dentist Rewards Club "Send Your Friends"℠
2. "Texas Hold'Em Rewards"℠ Sales Contest
3. "Upsell Rewards"℠ Technician Contest
4. "Be-Back Rewards"℠ New Customer Campaign
Contact us today to get your Rewards Program started next month~!
———————
** Following our Copyrighted Rewards Program, Campaign Response Rates historically average 8%~12%. e.g. Distributing 1000 Cards will generate 100 New Patients. Distributing 2000 Cards will generate 200 New Patients. Past performance does not guarantee future results.
———————-
Service Mark ℠ Copyright © 2011-2017 Pro Marketing Systems, Inc.
All Rights Reserved. Unauthorized Use is a Violation of Federal
Copyright Laws U.S. Title Code 17, Sections 501-506